Creating beautiful things… repurposing vintage & found items-transforming them & combining them to create beautiful new pieces. And I already had a kitchen faucet before where hot/cold where two separate knobs and hated it. They are gorgeous, but completely impractical when you have raw chicken or enchilada sauce on your hands—hmm, let's get the temperature correct, a little turn of the knob on the left, a little turn of the knob on the right, nope too hot, let's try again.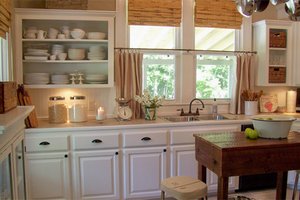 Here's a better view of peninsula that looks out into the family room (but after the wood plank tile floors went in.) Later we removed these cabinets, cut down the pony wall, and patched the tile floor underneath so that the new cabinets and dishwasher sat on the same tile, more on that next week.
I wanted hardwood floors, granite countertops, a new sink, one of those faucets you touch and the water comes on or goes off, a backsplash to complement everything, stainless steel appliances, and finally replacing or refacing the cabinets and adding new doors.
I knew I did not want to pull my cabinets off the wall and replace them. I also looked at old flooring, and cleaning it up. It had to much of a butcher block feel, and I didn't really want to mimic small planks from my floor, on my counters. Our new pantry… two floor to ceiling sets of these… so far I love it more because I can finally see everything that was in my pantry.
The next step was to put down the backer board for the floor heating elements and tile. I knew I wanted the island to be painted red, and look more like a piece of furniture than an island. Love your green glass tile, dark floors, white cabinets, built-in look fridge!