Thermal Mass Stove Design/Build Workshop: La Caseta de Milmanda. I've worked with local governments and NGO's on low-income housing construction; non-profits in housing and sustainable agriculture development; and with private companies in renovation and construction. I did this outside of the workshop because they were optional extras, and they also required modifying the existing structure – something I had promised during the workshop that we wouldn't be doing.
While the adhesive dried hubby used the jigsaw to cut the 1/4 inch plywood luan facade that would be nailed onto the furring strips. Hubby also drilled two concrete anchors (pictured below) into the first and last of the furring strips for extra support. I think that I want to get a brick fireplace in our new home!
My interests beyond natural building are in community development, which I incorporate in my work by leading natural building workshops and seminars for non-professionals. Instead of using the adhesive meant for this type of carpeting, I used a staple gun. Your new fireplace and room makeover is gorgeous!
We began with the classroom element of the workshop, introducing the basic principles of the thermal mass stove and the transference of heat. I found this cute wire rack at Ross for $12.99. It holds our towels leaving room for bathroom supplies under the sink.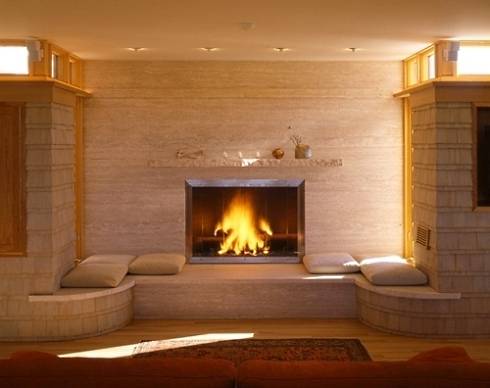 The inside of the firebox will be painted with black, heat resistant paint sometime before winter arrives :). You can find two more of our makeovers here and here Please feel free to ask me any questions in the comments section and I will do my best to answer them.